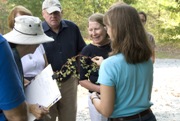 I'm Sylvan Kaufman, a consultant, teacher and writer covering topics from basic botany and ecology to invasive plant control and conservation landscaping techniques.
My background is in Ecology.  Through undergraduate, graduate and postdoctoral research, I've studied plant-animal interactions, plant genetics and gene flow, climate change and plant growth and the effects of invasive plants on native plant communities.  I worked as a land manager in Maryland for six years in meadow, wetland and forest ecosystems and curated a collection of more than 400 native plant species at Adkins Arboretum. Working with non-profits, I've done everything from lecturing to workshops to managing conferences and plant sales.  I taught Ecology and Ecological Restoration as an adjunct for the George Washington University Sustainable Landscapes Program for more than a decade.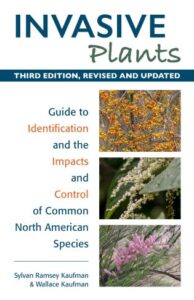 My father, Wallace Kaufman, and I co-authored the field guide, Invasive Plants. The third edition was published in 2023! This guide tells the history of invasive plants, defines their role in natural areas and the economy, and provides a field guide to over 250 of the most common species in North America.  For more information on invasive plants, visit www.invasiveplantguide.com.